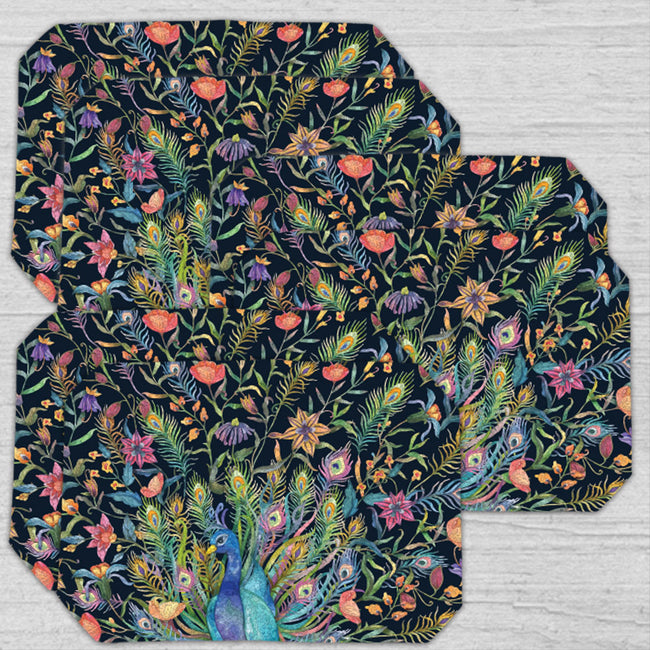 Table mats, Trivets and coasters together make your table setting look vibrant, classy and stylish. The cup coaster that comes along with the dining placemat can be used with the dinner mat to keep a glass of beverage or can be used individually as a teacup coaster. The set of table mat and coaster can take the dining game a notch up and is tailor-made for modern homes and dining setups. 
Mats are made of polyester and are washable, hand wash is recommended. Coasters & Trivets can be wiped clean with a damp cloth (do not wash).
A perfect gift for house warming, anniversary, newly weds or any other special occasion.
Available in 3 combinations:
Only Placemats = 6 pieces

6 Placemats & 6 Coasters = 12 pieces

6 Placemats, 6 Coasters & 2 Trivets = 14 pieces



Placemats 

Set of 6

Material : Satin Finish Polyester 

Size - 11 x 15 inches

Hand Wash

Base color white

Coaster

Set of 6
Shape: Hexagon
Size: 9 cms (diagonal corners)
Color: Pearl White (Glitter Finish)
Material: MDF

Trivets

Set of 2

Shape: Square
Size: 7 x 7 inches
Color: Pearl White (Glitter Finish)
Material: MDF
Placemats, Coaster and Trivet Set - Peacock Pattern