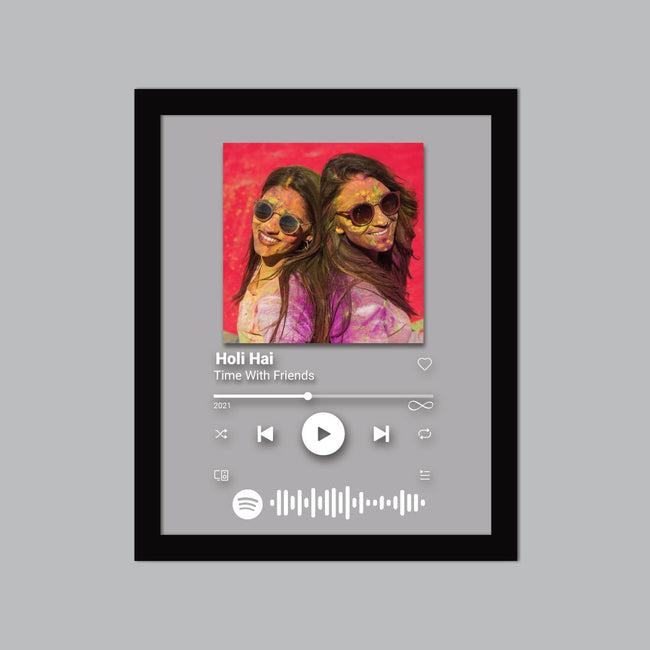 Adorn your walls with your favourite playlist! Choose from spoyify playlist or curate your own. Personalised acrylic Spotify plaque with your songs and image of your choice. An excellent gift for house warming, anniversary or birthday.
Scan and play your songs instantly.
To make your playlist:
Add your favourite songs (should be available on Spotify), your image, add your names and a special date if you wish to.
Add songs
Open playlist
Tap on the 3 dots showing below your playlist name, to get your image with your barcode.
Save and upload on Gingercrush.
How to play the song from the your Spotify Plaque:
It is a clear acrylic plaque to give you the perfect background of the wall you want to place it on the text is printed and image pasted on it. The plaque comes framed as seen in the image, has a 2 side tape, for a quick placement on any wall.
The text is printed and the image is pasted on the plaque.
Product Specifications:

Material: Acrylic & Vinyl
Size : 8x10 inches
Frame & 2 way tape included
Can be mounted on any clean, dry surface.
The plaque does not play the song, the barcode has to be scanned for the song to play on your device. ( Please use the "Detail Tab"  to provide us with Song & artist name for us to get the correct barcode).
Our suggestion choose the same color for "Print Color" & "Text Color" to give it a more neat and original look.
You need Spotify app to play the song, please view the video for any clarification. 
Spotify Plaque- Your Playlist